A joint eye tracking study conducted by search marketing firms Enquiro and eye tracking firm Eyetools has shown that the vast majority of eye tracking activity during a search happens in a triangle at the top of the search results page indicating that the areas of maximum interest create a "golden triangle."
The first phase of the study was conducted with 50 people in Eyetools' eye tracking lab in San Francisco, California and presented panel participants with 5 distinct scenarios that would require the use of a search engine. Google was used as the search engine in all of the instances.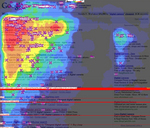 Key Preliminary Findings of the Study included:
The key location on Google for visibility as determined by the eye activity in the study is a triangle that extends from the top of the results over to the top of the first result, then down to a point on the left side at the bottom of the "above the fold" visible results. This key area was looked at by 100 percent of the participants. In the study, this was referred to as the "Golden Triangle". Generally, this area includes top sponsored, top organic results and Google's alternative results, including shopping, news or local suggestions.
Visibility dropped quickly with organic rankings, starting at a high of 100% for the top listing, dropping to 85% at the bottom of the "above the fold" listings, and then dropping dramatically below the fold from 50% at the top to 20% at the bottom.
For the full story, visit here.
Also, another great story about SEM Planning using the eue tracking is located here.